Prescription Forgery Laws in Georgia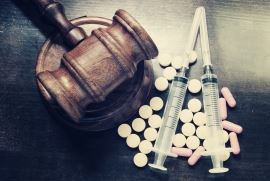 Prescriptions are documents certified by a doctor's license recommending that drugs be dispensed to treat a particular medical condition. Legitimate prescriptions are backed by a doctor's extensive education and continuing accreditation. Misuse of prescriptions allows potentially dangerous drugs to be dispensed to people who may not actually need them.
---
Issuing, altering, or using a forged prescription is illegal, as is possessing drugs obtained through illegal means.
---
What is Considered a Valid Prescription?
In order for a prescription to be considered valid under federal law, it must have:
The date of issuance
The name and strength of the drug
The dosage of the medication
The quantity of pills prescribed
Usage directions
Number of refills available (if any)
Signature of authorized doctor
Controlled substances are controlled for a reason. Forging a prescription is a crime because it is ultimately a form of illegal drug dealing.
Georgia Prescription Forgery Penalties
Under Georgia Code §16-13-78 it is a misdemeanor to obtain a medical prescription obtained by fraud or forgery; up to 1 year in jail &/or up to $1k in fines. Unauthorized distribution or prescription forgery can be a felony under § 16-13-43; up to 8 years in prison &/or up to $50k in fines.
Legal defenses against forging prescriptions include:
You didn't know the prescription was forged
You possessed an illegal prescription, but made no attempt to use it
You did not know the drugs you had were obtained through forged prescription
The drugs were discovered in an unlawful search and seizure
Georgia law is strict in this matter, and federal law even more so. If you are being accused of drug prescription forgery or for using or possessing illegally-obtained narcotics, don't waste another minute in securing representation.
Prescription Forgery Defense Since 1985
An Atlanta criminal defense lawyer at The Law Offices of Howard J. Weintraub, P.C. can review your case and inform you of your legal options. We take the time to examine all aspects of your case so that we can offer the most personalized representation possible.
Since 1985, we have advocated on behalf of thousands of clients in even the most challenging cases. Our aggressive and intelligent approach to criminal law has allowed us to secure excellent results for our clients time and time again. You can be confident that when you turn to our firm for assistance, your case will be in good hands.
---
Accused of forging a prescription? Do not face this on your own. Discuss your options today!
---