Weintraub & Alper Legal. is pleased to announce that our firm's founding lawyer – Howard J. Weintraub – has recently been named Attorney of the Month by the Metro Atlanta edition of Attorney at Law Magazine, a prestigious legal publication with a national reach. Attorney Weintraub's recognition as Attorney of the Month is a significant achievement, and one that speaks volumes about his abilities as a lawyer and successful career.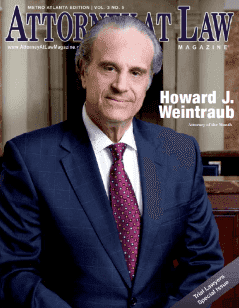 As part of being selected Attorney of the Month, Attorney at Law Magazine featured Attorney Weintraub on the cover of its publication, and included a full-length biographical spread. The featured article detailed Howard's early life and how his parents instilled in him his driven and meticulous work ethic. Weintraub is interviewed sharing his motivations for becoming a lawyer and provides a humorous tale of explaining why he chose the profession when applying for a position with the United States Department of Justice.
Attorney Weintraub's career in the Criminal Appellate Division of the United States Department of Justice and his time spent as a former federal prosecutor (Assistant United States Attorney) in the Northern District of Georgia is detailed fully in the article. Howard credited this time as an exceptional learning experience in his legal career that provided him the insight to protect the lives and futures of clients facing criminal charges.
Attorney Weintraub's selection as Attorney of the Month is far more than recognition of his success as a criminal defense lawyer. It is also recognition of the fact that he has a true passion for the art of law and for protecting the lives of individuals who feel there may be little hope in sight. Howard's legacy, the article makes clear, may be easily apparent from his case results, but is much more powerful when you consider how much he has helped the people he represents.
You can read more about Attorney Weintraub's selection on this press release, or by reading the full article.